There is something amazingly beautiful about a family who would take a child into their home and make room for her at their table. It is a wonderful reflection of what God does for each of us. At one point, we were all lost and wondering aimlessly and God made room for us. He gave us significance and a sense of belonging. Though He did not have to, He chose to love us and we are infinitely better for it!
Recently we witnessed the transformational power of love in the life of one of our residents. Her life has been forever changed because a family made room for her.
Jessica remained in care at BCH for over two years, successfully completing the program. However, because of her family situation, she was unable to return home. She could have stayed at BCH, but the staff knew that Jessica really needed to be part of a family. The search for a family began.
At the same time God was working in the lives of Josh and Amy Hamson who began to talk about adding to their family. Amy dreamed of having another baby, but Josh suggested that they consider inviting a teenager into their home. At first, Amy was skeptical of the thought. Being the mother of two small boys, she had doubts about her ability to parent a teenager.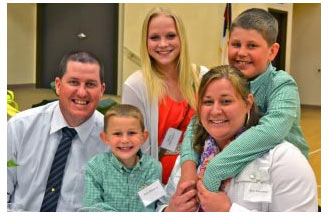 The couple finally decided to become a visiting resource for Baptist Children's Home and invited Jessica to spend Thanksgiving with them. During this visit, Jessica tried to show her "tough," independent side. But Amy, being a school teacher, was not fazed in the least. From that point on, every time there was a school break, holiday or even summer break, Jessica would spend it with the Hamsons.
After several trips returning Jessica to the Children's Home, Josh finally said to Amy, "Either we have to quit going to get her or we need to bring her in to our home permanently, because I can't stand to take her back anymore!" The couple decided to ask Jessica to join their family.
According to Amy, they are not a perfect family, nor do they have a perfect home. But, she, Josh and the boys love Jessica and she loves them. BCH Aftercare Worker, Adam Koop, mentioned that during his last visit to check on Jessica, he felt like an outsider. Jessica and her family have connected in a way we hope all children would.
We rejoice in seeing what a beautiful story God has been orchestrating in Jessica's life over the past two years. The road has not been smooth, but along the way He has been faithful and has led her to the place where her heart belongs.